Desert Habitats
Desert Riparian
Vegetation Structure-- Desert Riparian habitats are characterized as dense groves of low, shrublike trees or tall shrubs to woodlands of small to medium-sized trees. These habitats are found adjacent to permanent surface water, such as streams and springs. Usually an abrupt transition occurs between this and adjacent shorter and more open desert habitats. Riparian vegetation height depends on constituent plant species, willow thickets range from 1 to 3 m (3 to 10 ft) in height whereas Fremont cottonwoods may exceed 24 m (80 ft).

Composition-- Dominant canopy species of Desert Riparian habitats vary. Overstory species include tamarisk, velvet ash, mesquite, screwbean mesquite, Fremont cottonwood, and willows such as Gooding, Hinds, and arroyo. The subcanopy includes smaller individuals of the canopy species as well as quailbush, Mojave seablight, desert lavender, seep willow, and arrowweed.

Habitat Stages

Vegetation Changes

Desert Riparian habitats may exist as a variety of habitat stages ranging from seedlings through tree/shrub to large tree. Canopy development and plant density depend on available water, plant species, and site characteristics.


Biological Setting Habitat

Desert Riparian habitats may be found adjacent to other desert habitats including: The taller, denser Desert Riparian habitats usually have an abrupt interface with most shrubby, sparse desert habitats.

Wildlife Considerations

The importance of these relatively rare desert riparian systems to wildlife populations cannot be overstated. These habitats support more bird species at greater densities than other desert habitats, with the possible exception of some Palm Oasis habitats. The dense shrubbery and permanent water provide food, cover, and water for additional wildlife diversity.

Physical Setting

Soils vary from silty alluvial to rocky, sandy, well-drained substrates. Soils generally are moist, but some are dryat the surface with moisture beginning at a depth of several meters. Desert Riparian habitats do not persist on saline soils, but are usually adjacent to permanent streams in canyons or on alluvial deposits in wider valleys. These habitats may be associated with a variety of topographic features wherever the water table reaches the surface. Hot, dry summers and cool to cold, moist winters are characteristic of Desert Riparian habitats. Highest July temperatures range from 30 to 42 C (86 to 107 F). Lowest January temperatures range between 7 and 6 C (19 and 42 F) (Rowlands et al. 1982, P. G. Rowlands pers. comm.). Most precipitation is in winter, but summer rainfall occurs. Total precipitation ranges from 8 to 25 cm (3.1 to 9.8 in) per year and potential evapotranspiration is 3 to 17 times as great as precipitation.

Distribution

Desert Riparian habitats are found along permanent streams and at seeps and springs in the Mojave and Sonoran deserts. These habitats generally are found at elevations less than 900 m (3000 ft); however, willow thickets may be found well above that level in mountains.


Also see:

Water in the Desert

Owens Peak Wilderness
The mountainous terrain has deep, winding, open and expansive canyons, many which contain springs with extensive riparian vegetation. ...

Big Morongo Canyon Preserve
The desert springs ecosystem and Mojave Riparian Forest here are considered to be some of the best in California. In addition, the area is of botanical ...

Surprise Canyon Wilderness
Portions of Jail, Surprise and Happy Canyons and riparian vegatation highlight this wilderness. Most of Surprise Canyon has been designated as an Area of ...

Sacatar Trail Wilderness
Several of the canyons are complemented by springs with their riparian habitats of cottonwoods, willows and grasses. The Sacatar Trail, an old wagon road ...

Inyo Mountains Wilderness
Vegetation includes creosote, shadscale scrub, big sagebrush, lush riparian areas in most of the canyons on the eastern slope and pinyon-juniper woodland, ...

Manly Peak Wilderness
Streams flowing from springs, within the larger canyons create riparian areas of cottonwood and desert willow and provide valuable water sources for ...

Riparian Habitat of Grand Canyon Wildlife
Wildlife of the Grand Canyon Riparian Habitat. ... The lush vegetation and diversity of plant species along the riparian zone create many bird habitats in a ...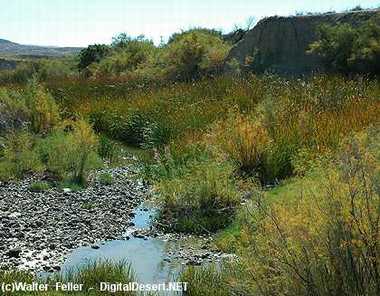 Amargosa River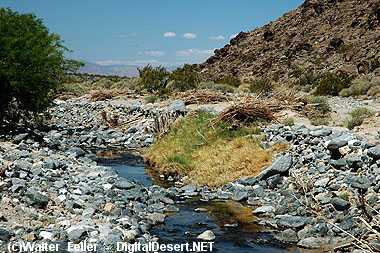 Salt Creek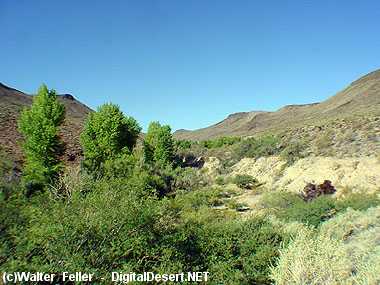 Paiute Creek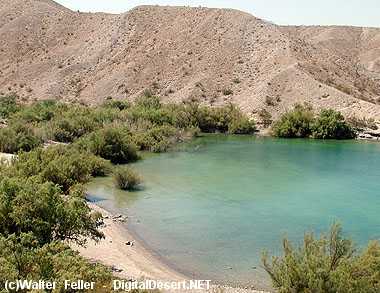 Cottonwood Cove