History > People
Prospectors & Miners
Shorty Harris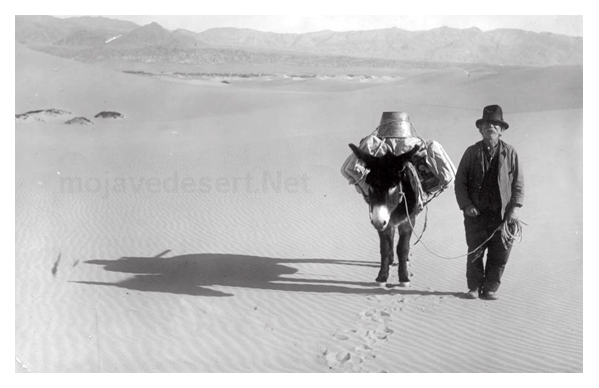 1860 - 1934

Prospector Shorty Harris said he could "smell gold." He was in on the discovery of both Rhyolite and Harrisburg. Rhyolite Herald June 23, 1905
"REPORTED BY SHORTY HARRIS."
Shorty Harris, well known pioneer prospector, has returned from Death valley and reports the finding of four dead men on the desert. The skeleton of one man was found about twelve miles north of Lone Willow. In the hills about 8 miles away, a horse was found running alone, and it is supposed that the animal belonged to the dead man.

At Furnace Creek ranch, Mr. Harris learned of the finding of three partially decomposed bodies between Lee's camp in Echo canon and the Lida C. [sic] borax mine, at the foot of a low hill on the north side of the Funeral range. The presence of the bodies was first reported at Ash Meadows by an Indian, who was attracted to the spot by a band of coyotes and a multitude of flies that swarmed about the remains. The Indian said that the bodies appeared to have been partially buried as there was considerable loose dirt over them, and it is believed from that that [doubled word] the desert travelers met foul play. The fact that these bodies were found close together indicates that the men were murdered.

Some connect these men with the three dead burros found at Salt Creek 35 miles away, the burros having traveled on another day or so before perishing.

Another horror of the desert is reported from Johnnie, a mining camp in that section, two man, raving maniacs, having been picked up on the plains. The unfortunate men were taken to Johnnie where everything possible is being done to bring them back to sanity. It is one of the stages of death from thirst for men to go crazy. The tongue swells up and becomes black, and very often a man made crazy from thirst will undress and wander about naked.

Daylight Springs, says Mr. Harris, ic [sic] going dry and will be exhausted within two weeks. Hole-in-the-Rock it [sic] now dry. There is a new water hole called Salt Well, 12 miles north of Furnace Creek. The water is somewhat salty but does very well for stock.


Inyo Independent November 16, 1934
"TAPS SOUND FOR "SHORTY" HARRIS, AGED PROSPECTOR"

While the sun sank slowly into the purple haze that filters over Death Valley at twilight and taps sounded in the clear air of this mysterious land he knew so well, "Shorty" Harris, miner, Good Samaritan and friend to all who knew him, was laid to rest in a dusty grave on the valley floor last Sunday afternoon.

He was laid beside the grave of his old pal and friend, Jim Dayton, long a respected pioneer prospector of Death Valley region.

DEAN OF PROSPECTORS

"Shorty" Harris, dean of all desert prospectors, died at the age of 74 years in a cabin at Big Pine, where he had sought rest and health following an illness about a year ago. He passed away in the restful sleep that he had sought.

In deference to his request, he was buried at the "bottom of Death Valley", beside his partner. He had prospected with Jim Dayton many years ago in search for the yellow metal.

The simple service, when the last rights were pronounced, was beautiful in the quiet solitude of the great valley. Chaplain Henry of the C.C.C. camp at Cow Creek, officiated at the open-air burial service. One hundred and fifty C.C.C. boys were present, bowing their heads out of respect to the grand old man of the desert, whose stories of early Death Valley, of burro-prospecting days, have been chronicled far and wide by writers of national repute.

The body was lowered in the grave exactly at sunset and more than 300 people stood quietly at attention as taps sounded.

Arraignments for the funeral ware [sic] made by Wm. Carruthers of Ontario and Supervisor Chas. Brown of Shoshone. The body was taken to Death Valley by Dewy Albright.

Many old timers of the valley were present at the services, including Mr. Zabriskie of Pacific Coast Borax Co. and Bob Montgomery, who originally located Rhyolite and the Shoshone mine, and had not been in the valley for some 30 years.

The burial of "Shorty" Harris went down in history as the first Christian burial in Death Valley, altho there had been many more who were buried there in shallow graves before, without Christian service.

News articles contributed by D.A. Wright



More about Shorty Harris
The best strike I ever made was in 1904 when I discovered the Rhyolite and Bullfrog district. I went into Boundary Canyon with five burros and ...

Related pages ...
Aguereberry Camp - Death Valley

Old-time prospector Shorty Harris and greenhorn Pete Aguereberry found a promising looking ledge in the Panamint Mountains. Pete stayed behind and started ...

Dublin Gulch, California Mojave Desert

Warm in the winter, cool in the summer, these hills housed many people famous in the history of Death Valley, including Shorty Harris and the Ashford ...

Rhyolite Ghost Town

Her birth was brought about by Shorty Harris and E. L. Cross, who were prospecting in the area in 1904. They found quartz all over a hill, and as Shorty ...

Death Valley Ghost Towns

Shorty Harris later took credit for the strike and changed the name of the town to Harrisburg after himself. Nevertheless, Pete Aguereberry, one of the ...

Shorty's Grave

The gravesite of Shorty Harris and Jim Dayton - Death Valley, points of interest along the West Valley road virtual tour.

Ballarat, Ghost Town

From 1897 to 1917 Ballarat served as a supply and recreation center for miners in the Panamint Mountains and Death Valley.

Frank "Shorty" Harris

At only 5 feet tall, Frank Harris gained the nickname "Shorty." Harris was a long-time Death Valley prospector and a partner in strikes in Bullfrog and Rhyolite, Nevada. He is remembered in the naming of Harrisburg. Regional history is replete with anecdotal stories of Harris's activities and antics; he appears to have personified the stock image of a reclusive desert dweller. He is among those desert prospectors who, though never finding fortune, nevertheless eked out a living from prospecting and small-scale desert mining. He died in 1934 and was buried in Death Valley.

Mining in the Southern California Deserts: Swope and Gregory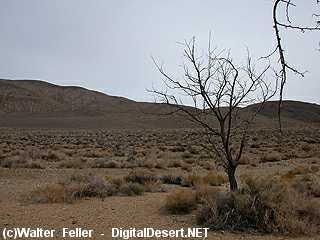 Site of Harrisburg tent city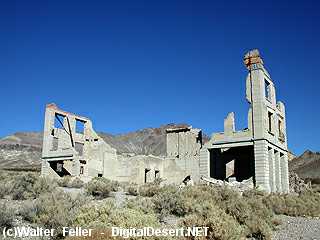 Rhyolite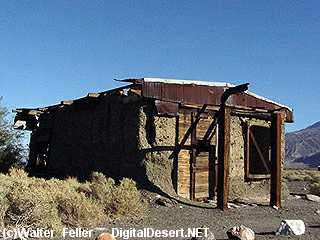 Ballarat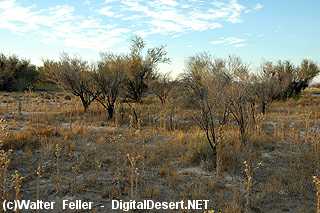 Ash Meadows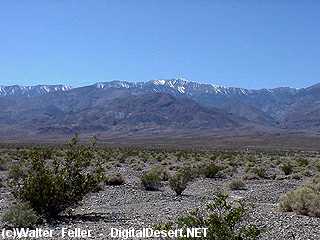 View of Telescope Peak from Shorty's Grave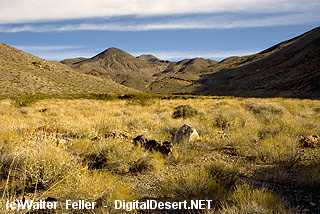 Echo Canyon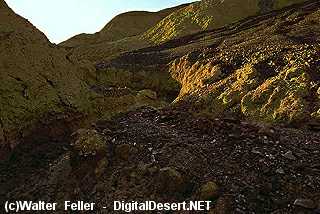 Wash near Cow Creek